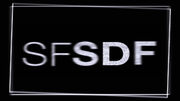 San Francisco School of Digital Filmmaking (SFSDF)
As one of the nation's top film schools, San Francisco School of Digital Filmmaking (SFSDF) is a leader in the training and development of quality filmmakers, film actors and screenwriters. From its inception, SFSDF has dedicated itself to the re-imagination of the film school model and to building a more creative and educational environment, which puts students at the center of the experience. The School's personal, immersive teaching methods combined with small, collaborative classes delivers the highest degree of student/teacher interaction in an unsurpassed developmental incubator. SFSDF nurtures a filmmaker's aesthetic spark while providing critical hands-on training.
SFSDF's next-generation digital entertainment focus places its students at the forefront of the digital media industry and prepares them for work on major motion pictures, television, and web content. Students use only the highest-quality, industry-standard equipment and each student writes, produces, directs, shoots and edits their films from start to finish. Additionally, strong industry relationships and a unique film studio partnership give students the opportunity to work on full-length feature films.
SFSDF is helmed by film industry veterans, boasts an award-winning faculty and is located in the famed Dogpatch area of San Francisco, California. Visit [1] for more information.
Location/Contact Info
Edit
Administration
2331 Third Street
San Francisco, CA 94107
415-522-1200 Phone
415-522-1207 Fax
877-292-4200 Toll Free
Production Facility
2565 Third Street, Suite 337
San Francisco, CA 94107
415-824-7015 Phone
External Links
Edit