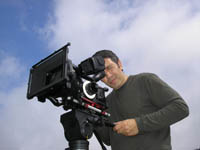 The Bodega Bay International Short Film Festival takes place in [1] . An hour north of San Francisco, Bodega Bay is in Sonoma County, home to world-class wineries and gorgeous Pacific Ocean vistas. The Bodega Bay International Short Film Festival, offers independent filmmakers from around the world a showcase for their movie without having to compete against the flood of celebrity-driven films which have deluged all the major festivals in recent years.

Kirk Demorest, co-founder of Bodega Bay International Short Film Festival comments, "True independent film projects at festivals like Cannes, Sundance, and Toronto, have been all but usurped by the pet projects of movie stars and producers. These power festivals (once accessible to emerging directors with a real cinematic voice), generally thrive on the prestige and business brought by these stars and their trappings. We, on the other hand, are delighted to present the debut short from a sixteen-year-old filmmaker from Cleveland."

The mission of the Bodega Bay International Short Film Festival, launched in January 2011, is to offer filmmakers an affordable alternative to some of the larger festivals in an equally breathtaking setting. They invite filmmakers to share their innovative work to a community famous for embracing the arts. As such, the festival is aggressively seeking the brightest filmmaking talent (working at any budget level) in the short film genres of drama, comedy, , action, animation, sci-fi, thriller, and horror.

According to Pamela Demorest, one of the festival's founders, the Bodega Bay International Short Film Festival expects to have an acceptance rate that is many times greater than either The Sundance Film Festival or The Cannes Film Festival. Short films must have a running time of 15 minutes or less and have a completion date of January 2008 or later. The films will be judged by a panel of at least three film professionals who have a minimum of three major credits from Hollywood motion picture studios. The festival offers a "best-in-festival" cash prize.

Bodega Bay International Short Film Festival prefers online entries submitted via Withoutabox.com , which provides cost-saving, paperless submission to film festivals around the world. Filmmakers fill out one master entry form and take advantage of quick entry, extended deadlines, and powerful submission management tools at no extra cost.

Bodega Bay has its own cinematic history as the sleepy fishing village featured in Alfred Hitchcock's classic horror film, "The Birds." The precise venue of the screenings is to be determined at a later date based on the number of entries.